Training
Introduction

A major focus for Kinghorn Sailing Club is introducing people to the sport and equipping them with the skills needed to get started. The club is also a recognised Royal Yachting Association (RYA) Recognised Training Establishment and its instructors are qualified to award RYA certificates. But it's not just about beginners as even intermediate level sailors can benefit from some of the courses on offer.

Beginners

If you want to learn to sail or improve your abilities then Kinghorn Sailing Club has much to offer you. Courses are run over two weekends in early summer and autumn to teach complete beginners how to sail to RYA standards. The club's senior instructor and four dinghy instructors will help you get to grips with the sport and offer loads of practical hints and tips. This continues after the course has finished, ensuring you continue to develop your new found skills.
But don't take our word for it, click on the "Testimonies" button to read what people, who have been on our courses in the past, have thought.


As well as great tuition, everyone who signs up for an introductory course will receive membership of the club until January. Click on the "Next course" button for course dates. However, places are limited so, if you are keen to take part, don't delay in sending in the application when dates are announced.

Improvers

For those who know a bit about sailing and would like to learn more, the club's training team holds a number of free training sessions throughout the year to meet the varied needs of the membership. In the past, these have ranged from racing and boat tuning to seamanship and navigation. Teaching methods include classroom sessions, practical demonstrations and on-the-water practise. These courses are generally held in early spring or late autmn.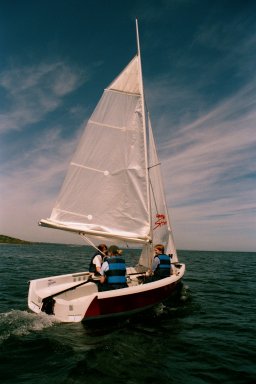 Beginners enjoying their first taste of sailing the club's Laser Stratos without an instructor on board.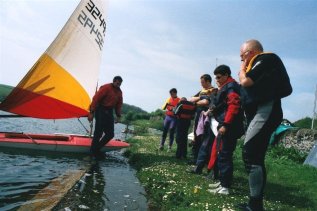 Members listening to a talk on single-handed sailing.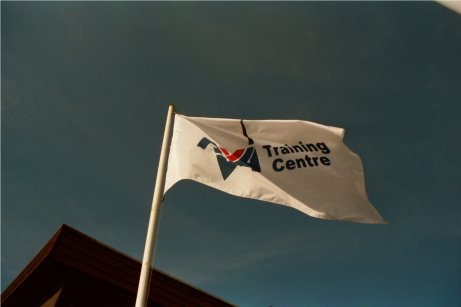 Kinghorn Sailing Club proudly flying its Royal Yachting Association 'Recognised Training Establishment' flag.