The Club
Kinghorn Sailing Club offers excellent facilities provided by its clubhouse on the shore at Kinghorn.
Facilities include:
Changing rooms
Showers
Kitchen
General meeting room
Storage for masts, sails and sailing gear
Separate shed for boat maintenance
Boat storage is available at the back of the clubhouse or beside the harbour.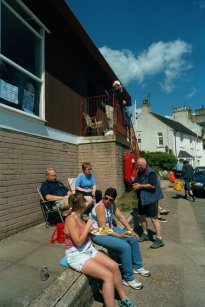 Members enjoying some summer sunshine outside the clubhouse in between training sessions.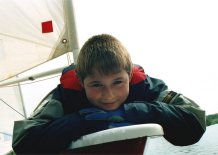 Younger member Thomas Wallace on board his Laser 4.7.
Autumn, Winter, Spring
The rest of the year is spent sailing at Kinghorn Loch which offers a changing area beside the water and toilets at the nearby Ecology Centre.
Storage for boats and equipment is available beside the loch.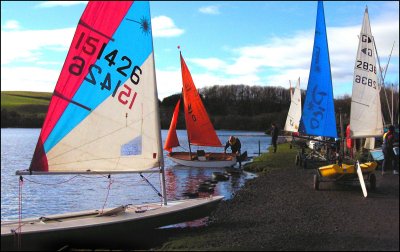 Boats ready for action beside Kinghorn Loch.